About 20 years ago, when I was a young remodeling contractor, I had a customer who wanted an old mansion remodeled. This old house was from the turn of the century and had servants' quarters, five bathrooms, six or seven bedrooms, several fireplaces, etc. The owner, although a little eccentric, knew what she wanted and was willing to pay whatever was needed to get it.
To my extreme surprise, one of the things she wanted was a wallpapered kitchen floor. When I questioned her she told me that her father had done it in her childhood home years earlier, and it had held up as well as linoleum. She said he had put several coats of spar varnish on it for durability. Of course, years had changed the finishing technology and we used a polyurethane for the coating, but the rest was still the same. The pattern she picked matched the wall and was very striking.
After removing two layers of old linoleum, we put down a quarter-inch layer of plywood to even out the rough surface that remained. Then the seams had to be filled and sanded smooth. (Any good lap and leveling compound will do.) Once the floor was perfectly smooth we had to prime it.
There are several good products on the market today that we didn't have then. One is a wall prep that is almost clear, dries quickly and can be rolled or brushed on. This will make the surface suitable for wallpaper.
Your selection of wallpaper is important. The most durable is a fabric-backed vinyl, however any vinyl-coated paper can be used. Prepasted papers are not recommended. It is very hard to control the water and sometimes there is too much paste on it, other times there is not enough. I find that a good premixed paste works best. Ask your wallpaper store clerk for a recommendation on which one to use for your particular paper.
Try to visualize your pattern on the floor. Center the first strip so that the last strip at the wall on each side will be about the same. Nothing looks worse than a pattern that doesn't match the walls. Borders can be added at the edges or cut into the center. Place the pasted border over the wallpaper where you want it and very carefully cut through both layers–both border and wallpaper. Then remove the excess wallpaper from under the border. Repaste and smooth the border in place using a seam roller. (Remember a seam roller should be used on all seams to set them properly.)
Sponges or squeegees can be used to smooth the paper onto the floor. After the floor is completely dry (this may take more than one day), apply your first coat of urethane. Allow this coat to dry before applying your second coat. The more coats you apply, the more durable the finish and the longer your floor will last.
Then tackle the ceiling
Prepare the ceiling as you would a wall. To mark off the first plumb line, measure 1/2-inch less than the width of your paper to create a half-inch overhang on the wall to prevent gaps. Cut each strip of paper four inches longer than needed, so it will overlap onto the walls.
Mark plumb lines as you go. Using a chalk line may be easier than holding a level upside down and drawing a pencil line along it. However, you will need a yardstick to make sure the line is plumb.
Apply paste and fold the paper accordian-style. Line up the first strip with the plumb line and smooth down the first section along the line, gently pushing paper into the corner and edges of the ceiling. Have a friend hold the remaining folds of paper up with a broom while you work your way across the ceiling.
More wallpapering hints are available from Storey's Basic Country Skills, by John and Martha Storey, available from the Countryside Bookstore, W11564 Hwy. 64, Withee, WI 54498; 800-551-5691. $24.95 plus $2.50 P&H.
Measuring tips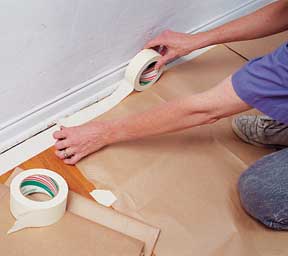 Measuring for wall paper quantity can be done by multiplying the length by the width of your floor and dividing by 24 or 36. Twenty-four square feet is the amount in a single roll of vinyl coated paper, 36 sq. ft. in a fabric backed vinyl paper. Depending on the type you select, the quantity will be very low. Allow a little extra if the pattern you choose is a drop match; an extra roll or two is a good idea anyway. Flaws are prevalent in wallpaper, so check each roll before you start–you may save yourself a headache. Wallpaper stores will replace rolls that haven't been used, but you're out of luck if you already pasted it.